Up until a couple of years ago, capturing a home in 3D took a fifty-grand camera investment, specialized CAD software, and some serious computer engineering skills.
Not so much anymore.
New tech has launched a 3D space race, bringing a variety of competitors into virtual reality designed specifically for real estate.
Each of the four following products offers the chance to make immersive 3D walkthrough tours of sellers' homes. Matterport, RealVision, InsideMaps, and iGuide all work similarly: take the system with a tripod into a home, set it up at varying intervals throughout the space, and then each company's software will stitch it together into walkable virtual tour.
But how different are they? We scoured the Internet and read every review to bring you what we think is the best and worst of the top four competitors.

What you need
Matterport camera ($4,000)
iPad ($1,000)
Subscription-based software ($49 – $149/month)
Tripod
How it works
To use Matterport, you need the whole package;  camera, app, iPad, tripod, and time. The result is the best-known and most widely-adopted 3D walkthrough system on the market right now.
After setting up the Matterport, you then leave the room and remotely start the scan. Matterport will do a 40-second, 360-degree sweep and convert the panorama directly into 3D. You can assign the scan to a room, name floors, and manage your scans all from the iPad app, which is offered on a subscription basis.
Matterport will generate a 3D "dollhouse" of your space, rather than a floorplan. When you start a walkthrough, you'll start with the dollhouse overview, and then from there can jump to any space or start right at the front door.
Their keyboard or mouse navigation is easy to use, but slow. I also found it to be one of the worst for VR-queasiness, an issue that many companies are still working out.
You can adjust to look up or down, so buyers who hate popcorn ceilings or parquet will always be able to doublecheck in-tour. Matterport's one of the best for high-def imagery, and you can often zoom in so tight as to read book titles or examine grout.
Scoring – A-
Matterport gets top marks for high-quality scans, intuitive walkthrough navigation, and almost-seamless space transitions. It also has prioritized virtual reality compatibility more heavily than any other competitor, so they've become the industry standard for headset walkthroughs.
It loses out for its headache-y transitions, and sheer cost of entry (although Matterport does offer the lowest price for their software across the industry). $4,000 is a lot to shell out for a camera, especially if this is your first foray into virtual reality.
All in all, if you're set on Matterport, keep your eyes peeled for a sale to try to score the camera $500 cheaper – it's already gone on sale twice this year. Or try to buy used.
Gritty Details
Virtual-reality compatible: Yes
Desktop compatible: Yes
Mobile compatible: Yes
Bring-Your-Own-Device: No
Learning/Skill curve: Medium
Floorplan: Yes, but in 3D (a "dollhouse").
Buy if…
You want to offer virtual reality headset experiences (in your office or in-person), or you're comfortable with shelling out for the industry's best offering.
The Non-DIYer: RealVision (formerly Toursler)
What you need
Canon EOS or 5D camera ($400+)
iPad ($1,000)
Subscription-based software ($100 – $5,000/month, plus a per-tour cost outside of your monthly "credit")
Tripod
Rotating panoramic tripod head
RF remote trigger
OR
How it works
RealVision is a bring-your-own-device set up that lets you use almost any Canon DSLR camera to make your 3D tour. The caveat? It's designed for photographers, not agents, who do the tours for Realtors for a per-space fee.
This is because RealVision is insanely expensive; they charge per month as well as per-scene (per-panorama, which is about four photos), but shave off the cost of the first tour (or more – it's based on the monthly fee).
The software will stitch together panoramic scenes for an immersive tour, plus generate an accurate, industry-standard floorplan from the photos. You can pull stills from the tour for free or RealVision will do it for you for about sixty cents apiece.
Inside the walkthrough is an interactive 2D floorplan that you can use to use to navigate around, on top of using your keyboard and mouse to manoeuver around the space. The jumps between scenes aren't seamless, but they're faster than Matterport, and VR queasiness is minimal. You can also adjust to look up and down around the space.
Scoring – A
RealVision gets top grade for its bring-your-own-device model, which significantly reduces the cost of its services while making it easier to get started. Its software isn't cheap – the per-month and per-scene costs can add up – but at least there's no shelling out $4,000 for a camera.
This is why it's a solid option to hire someone else to do. For a few hundred dollars a professional photographer will come in and make the virtual tour, which also pulls the HD photos and floorplan.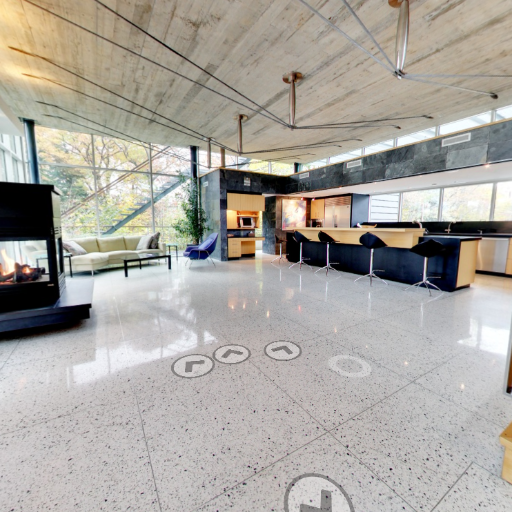 The walkthroughs are clean, fast, and come with an embedded interactive floorplan, which helps with navigating larger homes.
RealVision loses out on a few things. First, since it's marketed to photographers, high-volume agents interested in creating their own walkthroughs miss out on their product. Second, their website and pricing model are confusing and hard to navigate – I still can't find full information on their pricing. Still, this is pretty standard for business-to-business companies.
Finally, they made this comically bad YouTube ad that clearly rips off well-known YouTube series Adam Ruins Everything.
Still, the end product is a straight A, being the easiest to navigate and most high-powered walkthrough we reviewed for this post.
Gritty Details
Virtual-reality compatible: Yes
Desktop compatible: Yes
Mobile compatible: Yes
Bring-Your-Own-Device: Yes
Learning/Skill curve: Medium-high
Floorplan: Yes, not interactive
Buy if…
You work in larger spaces, and don't mind the two-tier pricing model. Bonus for already having a compatible camera.
The Tiny-But-Mighty: InsideMaps

What you need
iPhone 6, 6s, 7 ($300+)
Per-space pricing ($35 – $90, depending on the home size and package preferred)
Tripod
InsideMaps HERO 360 Rotating tripod mount – $190
How it works
InsideMaps is a little different than the others. Instead of a camera, you only need their rotating mount – and the rest happens on your iPhone.
Set up the rotating mount on your tripod, connect it via Bluetooth to your iPhone, and hit "Start Scan" on the app. It'll do a 360 panorama of the space, and you can manage everything inside the app. InsideMaps will also generate a top-view dollhouse (not unlike a Sims home) and a 2D, navigable floorplan. It works with both keyboard and mouse navigation.
Another interesting thing about InsideMaps: their 3D dollhouse view is navigatable like a walkthrough, except it's editable; add furniture, change paint, and walkthrough the space having made changes. It's great for the construction and design industry, as well as real estate walkthroughs.
While the app itself is free, you have to buy an individual package for every home you scan.
Scoring – Entry-level A, Long-term B
The InsideMaps walkthroughs I've used have all been oddly difficult to navigate. To move forward through a space led me out windows, on a long-distance jumps, or into quirky corner spaces.
I don't think this is an issue with InsideMaps itself; my guess is that poorer-quality scans are a result of the fact that InsideMaps is the cheapest, most accessible VR Tour solution on the market. With such a low cost of entry, it hosts the most inexperienced users trying their first 3D tour with the software.
That being said, it's a high-powered software that almost competes with the big guys; its real value lies in its insanely low entry cost.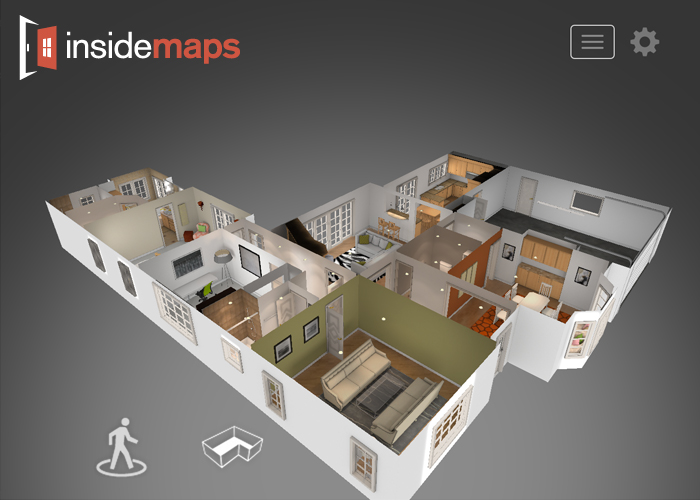 Gritty Details
Virtual-reality compatible: Yes
Desktop compatible: Yes
Mobile compatible: Yes
Bring-Your-Own-Device: Yes
Learning/Skill curve: Medium
Floorplan: Yes, 2D and 3D
Buy if…
you have access to a compatible iPhone and want to try your first 3D walkthrough tour to see if it's right for you.
The Canadians: iGuide by Planitar
What you need
The iGuide ISM5 camera – $4,500
Any browser-supporting tech (phone, tablet, computer)
A tripod
iGuide processing app – $70
How it works
iGuide is the only Canadian entrant on the virtual tour walkthrough scene, brought to you by Planitar. It's a 3D camera and browser-based app that uploads your photos for online processing, which automatically gets emailed to you when it's finished.
Set up the iGuide in your space and manually photograph 4 different angles, and then the iGuide software will convert these fisheye photographs into a 3D walkthrough.
iGuide doesn't charge a subscription, and instead opts for a per-space processing fee of $70 for their Standard package, with additional space over 3000 square feet costing between two and three cents per square foot.
For their Premium package, each space costs $100, with a charge of 4 and 5 cents per additional square foot over 3,000. The only difference seems to be that the premium package adds a more accurate floorplan, which includes doors and fixtures.
Scoring – C+
iGuide has some of the best bonus features in the industry, with premium floorplans, feature sheet creation, branded walkthroughs, and user analytics. The user analytics, in particular, are an amazing and much-needed feature.
The team takes their post-scan support very seriously. They're well-known for being hyper-present at workshops and conferences, and available for operator demos and help through a variety of platforms.
All of this is fine, but I have one major, deal-breaking complaint about iGuide: the virtual tours are only mouse-based. You can't use your keyboard to navigate. It's also slow, and jumping between scenes required a load time.
We've also noticed that, sometimes, embedded tours just won't work. You'll click on the tour, it'll look like it's loading and just… stop. Not good.
Note: A commentor pointed out this is due to improper embedding. Thanks!
All in all, iGuide's solid support and bonus features might not make up for its high price tag.
Gritty Details
Virtual-reality compatible: Yes
Desktop compatible: Yes
Mobile compatible: Yes
Bring-Your-Own-Device: No
Learning/Skill curve: Medium-High
Floorplan: Yes
Buy if…
you like to support Canadian companies and you absolutely need the additional features or support that iGuide offers.
---
EDIT: A previous version of this post had a faulty embedded walkthrough from iGuide, as well as a comment on "sub-par performance". We've removed these to more clearly reflect the product and our thoughts on it.
---
Want to know more about 3D home walkthroughs or digital strategy? That's our jam. Contact us today!